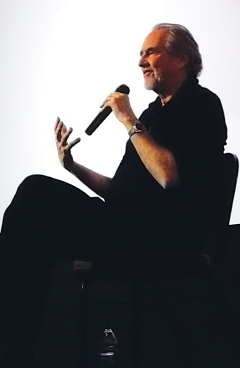 After viewing Scream 4 three times, nothing would be more satisfying than to sit down with the Master of Horror himself and get his take on certain scenes.  Some lucky folks got their chance as a screening of Scream 4 was shown to Cal State Long Beach students Monday evening; a Q&A session with director Wes Craven immediately followed.
Craven spoke with the students about the filmmaking process and revealed there were certain times when even he was unsure which scenes would be shot next.  "It is amazing it turned out as well as it did," he said.  Craven described the editing process for Scream 4 as his most difficult to date – stating the most common question asked during editing is, "Do we really need this?"
The director went on to say the DVD should be interesting as many scenes shot during principal photography were left on the cutting room floor.  Could Scream fans possibly be treated to an extended cut of the film?!
Following the screening, Craven received a standing ovation and praise for his work on the film.  "I liked it," Film major Elliot Plichta said. "It's my favorite one since the original." Although the film may not be a hit at the box office, it's nice to see Craven's fans showing some love.  "I enjoyed watching you guys watch the movie," the director said.

Source: Daily 49er