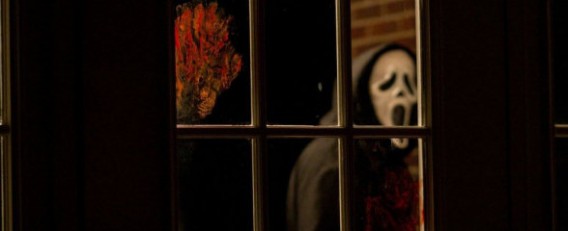 After posting my first thoughts prior to Scream 4's official release, I intended on writing a more spoilery piece a little later but I had more fun reading your thoughts instead (all 250 of them!). My initial feelings on the film haven't really changed, but additional viewings did solidify certain strengths – and weaknesses.
1. The opening scene is painfully near-perfect
The three-part opener has some serious quality differences. The first segment with Sherrie & Trudie is masterful, with dialogue that pops, honest performances and genuine suspense (who knew a vibrating txt alert could generate tension?). Not to mention the total geekgasm of two costumed-up Ghostfaces at once. The Rachel & Chloe scene has a specific function to bridge the Stab and Scream worlds and explain the "rules" of opening scenes. Mission accomplished. However the final setpiece taking place in Woodsboro should have been, progressively, the best – but came off as cliche and rushed, with noticeable lighting issues, a goofy oversized mask, and a cheap-looking garage set – basically, what you'd expect to find in a scene from Stab. Unless that was the point – but it all just feels upside down. Also, the focus was on Jenny, who despite her GPA still fulfilled the dumb blonde functions while Marnie, the more innocent and interesting of the two was relegated to an off-screen kill, unless you count her deathcam footage in the climax.
2. Sidney, Gale & Dewey really shine
It almost doesn't matter who writes the dialogue anymore – Kevin Williamson, Ehren Kruger, Wes Craven himself or any other anonymous Dimension "script doctor". The characters live and breathe on their own in Scream 4, independent of a writer's voice. They're almost solely avatars of Neve Campbell, Courteney Cox and David Arquette now. That they're all in a town they've all lived in for long periods is what grounds them. Keep the characters in their element and they write themselves, drop them out of their element and you had better have a strong voice guiding them or you get Scream 3. This chapter got me invested in the trio's safety and survival in ways the previous sequels never did. One of my favorite moments in the film is a small character moment that in retrospect is a miracle to have survived the editing: Sidney and Dewey having a relaxed catch-up talk. The emotions really choked me up, and it's the most real a conversation the two have had since – well, ever. Sidney has outgrown her victim personality and so can engage Dewey as an equal instead of the usual case of him coddling her like a surrogate Tatum.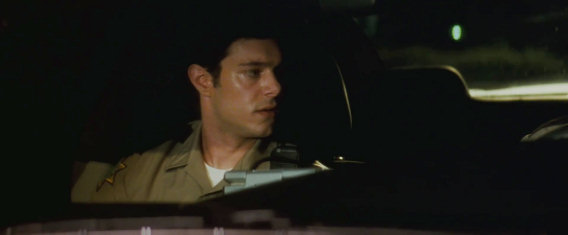 3. The dumbest Movie Cops ever?
Perkins & Hoss are clearly modeled on the bumbling pair of police in Halloween 5: The Revenge of Michael Myers (Kevin Williamson loves that sequel, and they die the same way). But isn't Scream supposed to present smarter, more reality-based characters than the usual faint outlines found in old-school slashers? Woodsboro may be a small town, but it's not out in Hicksville, and considering its past, you'd think Dewey's posse would be a bit more on the ball. The actors are definitely capable – Adam Brody has come a long way from the OC days, but it was sad to see that Anthony Anderson has proven his acting chops outside of the comedy sphere only to be hired to provide some cheap laughs.
4. Some of the best deaths are the surprising ones
Generally with slashers, you can see a death sequence a mile away – a supporting character becomes isolated from the principles. The moment Rebecca stepped into the elevator you knew what was coming. When Robbie went outside of the house it was only a matter of time. And that's okay, because once you know who and when the fun moves onto how. That's the game viewers mentally engage in, maybe subconsciously. But instant death that comes without build-up? You gotta have some of those. Charlie's death was hilariously cruel but the one that stands out is Aunt Kate. There was definitely a sense of sadness to her death – that she would suffer the same fate as her sister Maureen – but also a degree of absurdity via the mail-slot method of her dispatching.
5. Spoilers alter the viewing experience
Maybe running a Scream website and hoping to make it through to Scream 4 spoiler-free was a little naive, but I was doing fine anyway. It was those damn test screenings starting in January that made it impossible to not have parts of the movie ruined. As expected, all the major plot points of the movie quickly spread like wildfire, thrust in front of our eyes whether we wanted to know or not. Spoilers don't just ruin the reality, they destroy imagination: it's telling that once the cat was out of the bag about Jill, most of the wonderful theories about whoever in the large cast could be a killer and why were replaced with proponents and openents theorizing "is she or isn't she". Luckily reasonable doubt and lack of confirmation on culprit #2 allowed me to enjoy the mystery playing out. It was the spoilage of smaller moments that truly hurt the experience for me, like the punchline to the Anna/Kristen scene, or key lines of dialogue that revealed who was left standing at the end. I think come Scream 5 I'll actively seek all spoilers out just so these inconsiderate idiots never get the chance to impact my enjoyment. Also, spoilerhounds get so hung up on details they miss the bigger picture: the surprise of the extended climax in the hospital is something no one was able to spoil for me because only someone that truly saw the film could adequately capture its framework-breaking importance in text. Amen.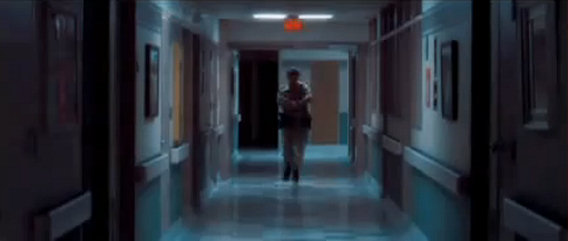 All in all Scream 4 is a solid entry that has the feel of a standalone sequel due to its distance in time away from the trilogy, but Scream 2 and Scream 3 were both done-in-one stories too, each with different tones. This will need more viewings on DVD/BD along with rewatch sessions of the first three before it can be fully integrated into the series within the minds and hearts of many fans. We'll definitely be talking about it for some time to come!