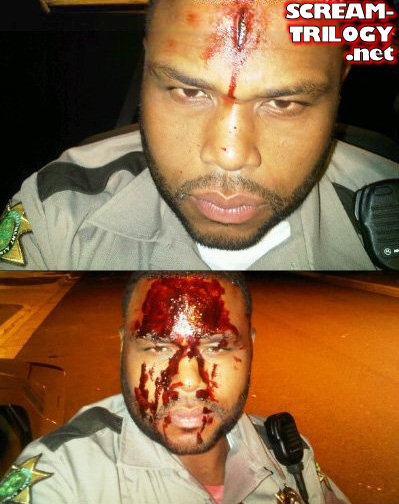 This initially flew over our radar but is worth a look, plus an excuse for us to show off some old leaked photos. MTV asked Scream 4 cast for their favorite kills in the movie. A welcome side effect was Wes Craven explaining the origin of perhaps the most humor-laced Scream death ever.
Interestingly enough, when we mentioned [Anthony] Anderson's epic death scene to Craven, he revealed that the drawn-out aspect wasn't originally in the script but inspired by a real-life medical emergency.

"That wasn't in the script," Craven said. "I did it without announcing it to the studio. I was hoping that they didn't fire me the next day," he recalled with a chuckle.

"It was written that the killer just comes in and pins him to the seat," Craven explained. "I had seen this thing on television, this documentary about somebody being stabbed right through the head and they actually showed the X-ray … and the guy walked into the emergency room, so I thought it would be extraordinary if somebody was stabbed in the head and still be alive for a while."
The full article has more from Anderson, Adam Brody and Emma Roberts. Did you find the scene darkly funny? Or veering uncomfortably close to Scary Movie territory?