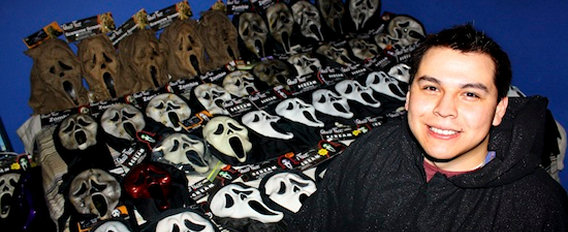 In a recently published piece by LA Weekly's online arm, Scream fan Anthony Torres was profiled for his extensive collection of memorabilia and merchandise. The article is nice but the real gravy is this video, in which he modestly shows off his Ghostface wares, and is chronicled in his attempt – and failure – to attend the Scream 4 premiere. To watch him get literally so close is heartbreaking in a way only fanboys like us would truly understand.
Catch the Scream-Trilogy cameo? If that wasn't a meta moment, I don't know what is.
Torres is known as sidneyloverboy in online circles and last year attended the Los Angeles Scream 4 Art & Prop Show, bringing back slickly-edited video of the event.
Now, the headline wasn't just a rhetorical question! How big a Scream fan are you? How can you even measure such a thing? Does it take a large collection? Or sheer dedication?