In March I speculated who might be the Drew Barrymore of Scream 4 and looked back at characters in the franchise that came close to matching the groundbreaking opening scene of the first Scream. But now post-release, the question still remains – who was the New Drew? Was there even a New Drew?
And has the Scream opening been surpassed? I think everyone would agree that the answer to that is, no, it hasn't. But that's okay. I don't think anyone truly thought that Scream 4 would outdo the beginning of Scream. It would have been amazing if the Craven/Williamson dream team had conjured up something so amazing that we would all sit there in disbelief, but at the same time, I think we're all slightly relieved seeing as that Scream scene has a place in our hearts – I'm not sure I want anything to overshadow it.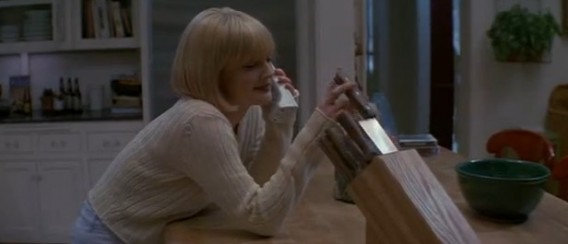 If we're talking opening scenes, how does Scream 4 match up? I actually think its opening was inspired. It was different to any other Scream opening because its purpose was to establish what has been going on in the 10 year gap between instalments, whilst at the same time implementing the film's standpoint on where it stands now within the horror category. Trudie's commentary on torture porn and Rachel's theories on never-ending franchises give us a quick, to the point guide to Scream 4's stance on the genre. So we know right away that we're still going to get a Scream film with clever self-referential critiquing of slashers and franchises.  The opening, therefore, is multi-layered. And in more ways than one, seeing as you get three opening sequences for the price of one.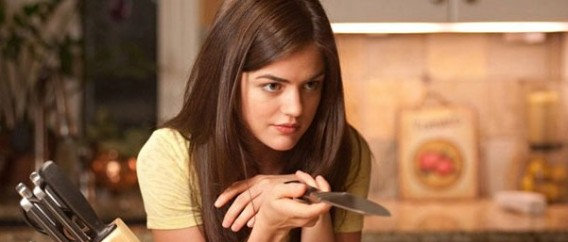 Scream's epic beginning was unique because it had no past to dwell on – Williamson could write that scene as the start of a fresh franchise. He had the freedom to simply concentrate on a girl, alone in a house, being terrorized. He made it special by making the mastermind a horror-nut and by executing the suspense whilst Casey was on the phone. But that was the one and only chance we were going to see something so raw in the Scream franchise. Scream 2's opening had to establish the whole aspect of Stab, Scream 3 had to ascertain that Sidney was in hiding and Scream 4 had to address the 10 year break, the six Stab sequels, and tell the audience right off the mark that it is aware that it's a bit of a cliché (re-booting a franchise with a new sequel, ten years later).
Once all this is out of the way, Scream 4's opening can be simply enjoyed. We're pumped during the Stab 6 scene given that we don't know quite what's going on, treated to another quick shock in the Stab 7 scene, and then finally allowed to enjoy a more Casey Becker-esque scene in "real life" Woodsboro, with Marnie & Jenny. But – it's not quite there. Not at all really. It tries, bless it, but can't really be compared to Casey's scene. I don't know if the re-shoots interfered with this, but Marnie & Jenny's sequence is rather pedestrian. Especially in the case of Marnie's off camera murder. Jenny is very quick to answer back to the phone (what on earth was that GPA line all about?), and she panics all too quickly. But what's great about it is that we are, for the first time since Scream, treated to an opening scene in which the psycho plays with someone on the phone, uses movie terminology with her, throws something through a window at her, and then chases her around a house.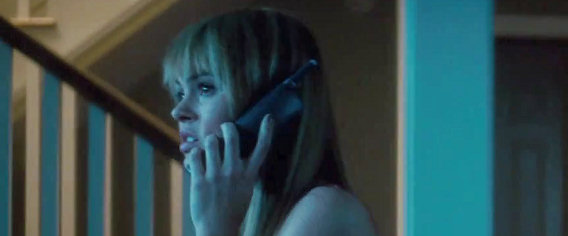 At the risk of sounding a bit sick, what was more entertaining about Casey Becker's end is that it was drawn-out. They try this with Jenny, having her escape to the garage, injured by the electric door, dragged around and stabbed, but Casey had that additional tragedy of her parents hearing the murder on the phone and then finding her outside. My final thoughts on the opening scene are that it was good. I loved the Stab element to it, greatly enjoyed the banter between Sherrie & Trudie in the very first section, and then liked the last moments of Jenny's demise before the opening credits appeared. I think Scream 4's opening is pretty classic but it's not Casey Becker.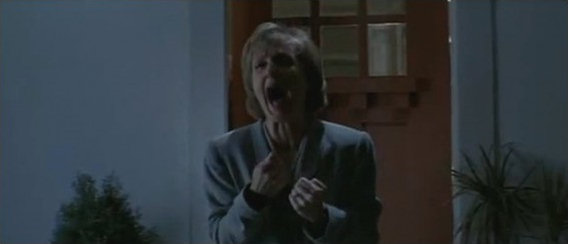 Is Rebecca a contender for this title? A contender, yes; but she doesn't get the crown. Rebecca was, in my opinion, the Jennifer Jolie of Scream 4. I thought her lines were witty and her character brilliant. It was a shame to see her go so early on. On the other hand, it was extremely important as it made things real to the town of Woodsboro. This scene was effective because it involved a phone call but in a different way. Setting it in a deserted parking garage was great. The stand out lines being "Can I take a message?" "You are the message". Brilliant. Yes, Rebecca should have stayed put in that car and prayed for cold, hard daylight, but then that would have been dull. The point of this scene was that we got another great phone call and the murder was possibly the most dramatic given that her body was thrown to the lions – almost literally.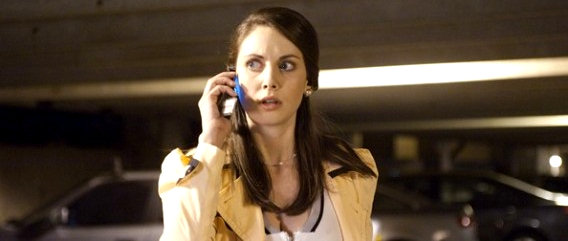 But the title of Drew 2.0 goes to Kirby. The run-up to her death is really the nearest to the Casey Becker scene that we're going to get. The fact that she is alone in the basement, with Charlie tied up on the patio, is not only an obvious mirroring, but especially clever given who Charlie is. The general consensus seems to be that we all have a soft spot for Kirby – she's a character we care about, and I think we all came to care about Casey Becker in those first 10 minutes of Scream. So the scene means more to us. But the best part to it is that we get horror trivia. Kirby is trapped on a phone call, where it is up to her to save a life by answering horror questions. And here, we get poignant trivia seeing as the question she has to answer comments on the idea of remakes and reboots. Kirby's terror is portrayed genuinely, the suspense is all there. It's truly like a flashback to old school Scream. And that's why she wins this title.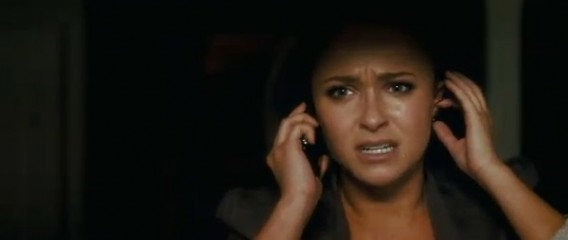 The thing with Scream 4 is that it really does bring us back to the old days of the franchise. Not only are we back in Woodsboro with bumbling cops and rustling bushes, but we're treated to the methods Ghostface used in the early days. Neither Scream 2 nor 3 really plays with horror trivia and the deadly phone call is rather played down. But the ringing phones in Scream 4 really remind us of what the series is about.
So we've got our Drew 2.0. Or at least our Drew in Scream 4. But we've still not seen what we saw in Scream. We might have, in the case of Jenny, if they'd of strengthened the tension with her phone call, elongated the scene, made the chase and the murder more dramatic and cast a super-famous actress to off before the opening titles. But this wasn't the case. This is what needs to happen next: if the franchise is to continue, the decision needs to be made on how many more are coming. Then in the final installment, be it Scream 5, 6 or whatever, they need to open that movie with something genius, which matches but puts a twist on the Scream opening. It needs to involve an actress who has been billed as a starring role (Jill was billed as the new Sidney and look how that turned out). It needs to be shocking. It needs to be written with a view to surpassing Scream. It needs to outdo it and surprise us all. And this is one tricky feat.