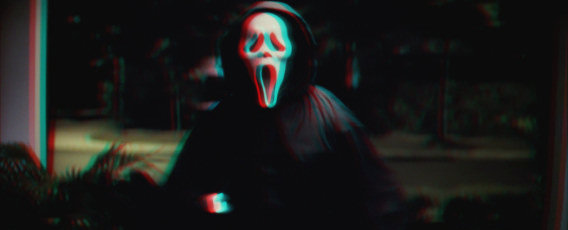 Bob Weinstein said never 3D – Scream doesn't need a gimmick like that. Wes Craven said never 3D – My Soul to Take's post-conversion was rough enough. Scream's greatest asset is its characters, they mutually believe. But then something happened. The film came out and audiences chose a gimmicky talking bird over Scream's characters. So sayeth the audience, the dollar has spoken. Now? A Scream 5 would still be about the characters, but it needs an additional factor, some eye-candy to reel in the unbelievers.
Today Dimension Films tweeted the following: "Lots of thoughts flying around for 3D! Love it or hate it?" Innocent enough. The company have several properties in varying stages like Piranha 3D-D and Spy Kids 4, both in the extra-dimensional format. But they have been known to use the account to float general ideas out there – just yesterday, posting "Lots of rumors flying around about #SCREAM5 ! Love the idea or hate it? Let us know".
Scream 5 wouldn't have to be a 3D novelty knives-flying-at-you extravaganza – it could encourage audience participation and be implemented for Stab scenes, perhaps. Constant 3D is a headache – literally. It's clear the next movie needs a lot more than a Ghostface mask on the poster to pull better domestic numbers in.
Prior to Scream 4's release, Wes Craven hinted that perhaps Scream 5 could comment on the 3D craze. Scream 4 successfully commented on reboot mania without falling prey to it, so surely there's a middle ground to implement 3D smartly as an ironic story tool?
Never say never…