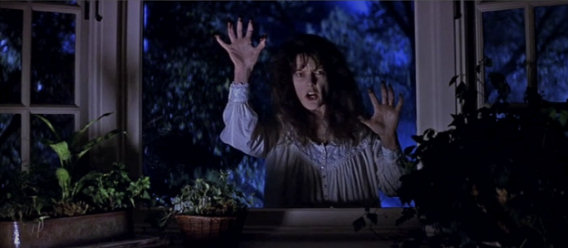 It's safe to say Scream 3 flirting with the supernatural seemed out of place. In keeping with the Scooby Doo template, the supernatural force of Maureen Prescott's Ghost was more natural than super – it was just Roman messing with Sidney's mind, and the audience's too – something I don't think resonated well. There were still unresolved issues with the reveal, like Sidney's nightmare: If that wasn't really Maureen how was she able to convey information about her Hollywood past? (Listen to her dialogue as she moans and slides down the window) Okay, maybe we can chalk that up to Sidney's own repressed memories of her mother making oblique references when our heroine was younger.
Scream is nothing if not elastic, so by Scream 4 we're back to the reality of small town murders. However one scene raises the notion of paranormality in the franchise – when Sheriff Dewey addresses Deputies Hoss & Perkins over their failure to stop and/or apprehend Ghostface, one of them compares the escaped killer to an actual ghost.
It would be easy to write this off as the pair just being ineffectual dumb cops (I certainly have). Maybe also easy to mark the scene as a red-herring designed to put one or both of the cops in the spotlight as possible culprits. That would work, only if Ghostface actually was an officer – if not one of them, than Judy Hicks – because someone with a knowledge of police maneuvers could reasonably escape them. I can buy that Ghostface was two teenagers, it's a tougher swallow that one of those runts (Charlie) was able to outwit two police officers separately closing in to surround him.
We've seen Ghostface almost literally disappear before – up in the video booth in Scream 2, after being shot by Dewey after the house explosion in Scream 3, and countless other times. Sometimes the two killer factor helped maintain the internal logic while other times, quick editing was favored over plausibility. But the Scream 4 scene in question is the first time these seeming teleportations have been vocalized by characters as something extra-ordinary. Could this be an actual story point? Or do we continue suspending disbelief?
Ghostface's identity under the costume varies from film to film, and it has been established and repeatedly reminded that the Ghostface "look" is readily available and easy to obtain. But there seems to be something about the mask and robe that gives its wearer incredible confidence and power to commit those dastardly deeds once they take on the killer role. And once the mask comes off, they become all too human, to their ultimate failing. Will Scream ever examine this element, and explore if there's some "weird" unifying aspect of becoming Ghostface? I wouldn't be surprised if they went the New Nightmare route one day when all the reality angles are exhausted. No doubt they already have in the Stab world, which seems to gain more influence over the Scream series as it progresses…