Scream (1996) and John Carpenter's Halloween (1978) are, of course, forever linked: Scream was Kevin Williamson's love letter to Halloween and its success lead to Halloween H20 (1998), masterminded by Williamson and chock-full of Scream influence. Both original movies spawned a multi-year slasher wave.
Our fellow screamers at Shock Till You Drop have reported Dimension Films' announcement of Halloween 3D's release date – October 26, 2012. The first two Halloween films in the remake continuity were by Rob Zombie, but it's unclear who's working on part 3. Director Patrick Lussier (Scream 1-3 editor) and writer Todd Farmer (My Bloody Valentine 3D) submitted a draft but are now pin-deep in the Hellraiser reboot. Their script centered on Michael Myers stalking Laurie Strode in a mental asylum. Afterwards other writers were invited to pitch, but then the Weinsteins made it known they were pulling the plug on the project which is why this news is somewhat of a shock.
What worries me is the nagging feeling Scream 5 should have been announced instead. Scream is supposed to be Dimension's big ticket horror franchise and now that it's back in the public consciousness cloud, you'd expect them to capitalize. Unless those domestic numbers scared them off so they've moved onto their secondary slasher franchise?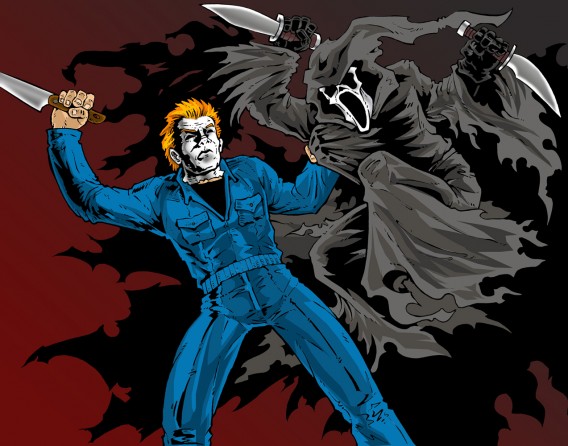 Wes Craven is rightfully enjoying a much-needed vacation right now, one he has been mentioning for months. That plus the contract clause that a suitable script needs to be presented to him before he jumps on board Scream 5 means that the beginning of pre-production was always going to be late this year at the very earliest. And doing the math for a one year turnaround time like Scream 4, that would put Scream 5's release date as late 2012. October would have been the absolute earliest. And ideal.
These deets don't explain why Scream 5 hasn't been announced yet. Dimension often announce release dates in the early stages of development – or in some cases well before. It's a process that caused script problems for every Scream sequel. Perhaps they're kicking the norm and won't greenlight until the script is right and Craven signs, but more likely there are just no specific plans at all right now. It'll happen when it happens.
Will you be watching Halloween 3D in October next year?
Artwork by JamusDu