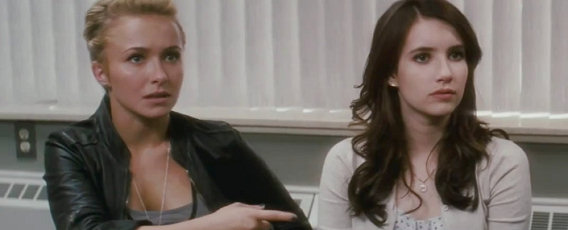 While we float in the zone between theatrical and home release of Scream 4, here's what we've gathered since our last DVD article. First off, yesterday saw the audio commentary recorded by Wes Craven and cast members, as announced by the director himself.
Recording commentary for the #SCREAM4 DVD with @RobertsEmma, Hayden Panettiere & Neve Campbell. Fun to re-live the shoot
I wasn't seriously expecting a writer & director commentary ala the first Scream, because of course that was the only Scream where Kevin Williamson was in complete harmony with Team Scream. And it surely would have been awkward to corral in Ehren Kruger to do the duties. But this is the first commentary in the series to have cast members!
Craven's tweet was backed up by Emma Roberts:
Recording the DVD commentary for #scream4 today with @wescraven and #haydenpanettiere. You guys are gonna love it!
Since both messages went out rat the same time, I can just imagine Wes and Emma giggling as they synched up their tweets. Go on, picture it. Adorable.
The elder gentleman also had this to say:
#SCREAM4 DVD will be out in the fall! Keep your eyes peeled
For US screamers, Fall isn't until September 28th – so with street dates usually being Tuesday, this implies an October release. The UK fares better, with August 8th penciled in, and a little later at August 18th for Australia. Early release dates overseas before the country of origin (where extras are usually put together) sometimes means those early countries are getting a bare-bones edition only. Hopefully not, but I didn't expect getting the film in cinemas before USA to go unpunished in the scheme of things.
Scream 4 Blu-Ray Preorder
Scream 4 DVD Preorder
Anchor Bay/Starz Entertainment in conjunction with The Weinstein Co will release Scream 4 in the homeland. It should be noted, as Lionsgate recently released the original Scream trilogy on BD, a boxset of all four films is unlikely, though not impossible if TWC hold hands with both companies to bridge the divide.
Extras or no, if you want to go purely on aesthetics, Scandinavia seem to have already won the battle with this nifty DVD/BD combo collector's edition box releasing on August 17th, which comes packaged with the maligned Neca Scream figure.