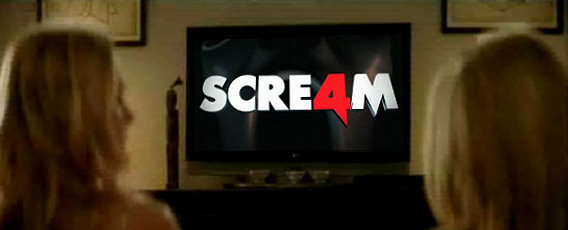 Amazon currently list October 4th for the VOD (Video on Demand) debut of Scream 4, but don't list dates at all for the DVD and Blu-Ray. Because it's safe to assume that doesn't mean Scream 4 is never coming out on DVD/BD, it's equally reasonable to say the date is correct across all formats. It would jive with Wes Craven's mention of a Fall release.
No artwork yet, though many are hawking a simple poster-conversion as a "prospective cover" which makes it easier to, you know, backtrack if the official art is different.
Special Features will at the very least include Audio Commentary by Wes Craven, Neve Campbell, Emma Roberts and Hayden P., and roughly seven or eight deleted scenes, again according to Craven. By the by, our Unseen Scream 4 series will resume sometime over the weekend (after a month-long break halfway), so be on the lookout.
Scream 4 DVD on Amazon
Scream 4 Blu-ray on Amazon
Scream 4 VOD on Amazon
Source: Scream4fan