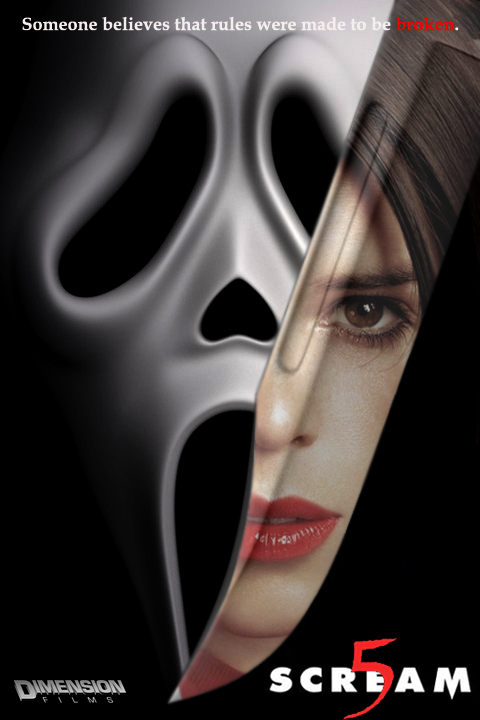 Today we spotlight a pro-quality Scream 5 fan-made poster. Designed by Ruben Correia of Portugal, it joins the high rank of last month's poster and continues the theme of matching up Sidney and Ghostface, which I think is the way to go for a real teaser.
I do have some suggestions on this one – the Dimension Films logo is way too large in relation to the title logo which itself is awkward with the 5 in front. And the tagline is clunky: "Rules were made to be broken" would have sufficed without trying to shoehorn in the old "Someone" motif which was dropped after Scream 2 for that same repetition factor.
In my opinion, fan artists shoot themselves in the foot by trying to be marketing writers too and coming up with a tagline which, if falls flat, can detract focus from appreciating the actual imagery. In that regard I'd prefer some sort of placeholder text (Scream 3's very generic "Welcome to the final act", for example). But what do I know? In any case, what makes edges this through is the sleek design. I can "buy" that Dimension would create something like this after the low-key, recycled affairs of the Scream 4 posters.
Premium Scream 5 poster artists, feel free to email it in or post in the Fan Media section of the forum and and the best – only the very best – will be featured on Scream-Trilogy.