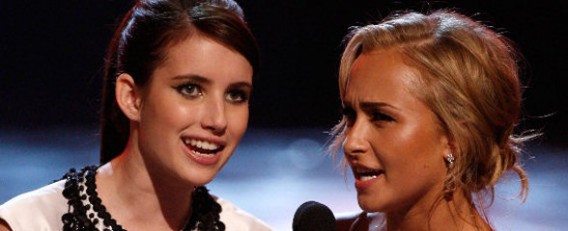 Time to help Scream 4 get some more recognition out there! It has been nominated for Best Horror Film at the Teen Choice Awards 2011. It faces competition in , Let Me In, Saw 3D: The Final Chapter and Piranha 3D: The Sequel. It's a crime that Hayden Panettiere wasn't nominated in the Scene Stealer Female category but let's work with what we got…
I think Scream 4 has a good chance here, because it has teenage characters in it and is a known property. Saw 3D is known too but was the worst entry in the series and the unrelenting gore seems more popular with dudes then chicks. Let Me In seemed marketed towards more adult horror viewers. The Piranha sequel isn't even out yet, so how'd it get nominated? I guess Paranormal Activity 2 is the biggest threat, being a relatively new franchise that both young and old are crazy over. Are we gonna let that boring flick win?
Simply go to the site and click Vote – it will prompt you to submit an email address (no verification needed)*, then you can scroll down the Movies section and under Horror click the checkbox besides Scream 4. You can vote every day.
*In that cynical move to capture theoretical teenage demographic data, there's an age requirement (some sites penalize you for being too young, this one does if you're too old). I got around this by simply imputing 1995 as my birthdate. Yeah, I wish.