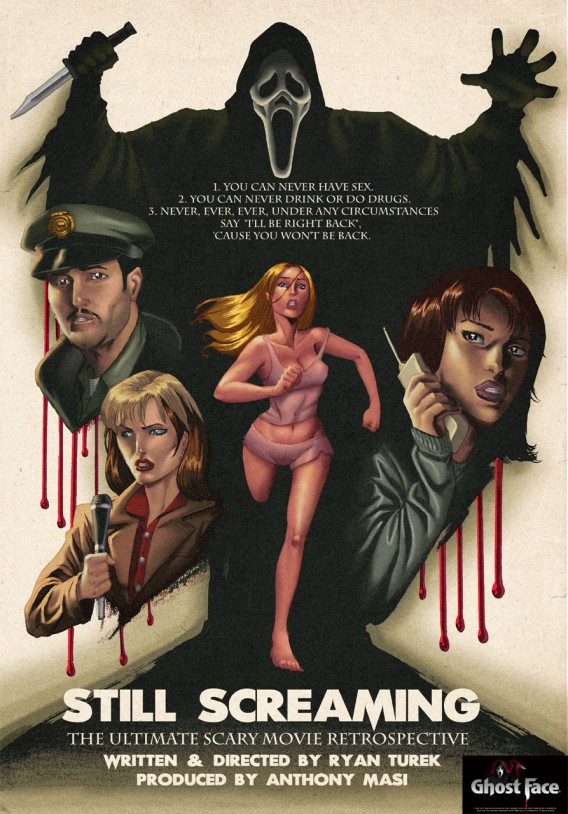 Oh yes, this I like. If you've wondered if the upcoming Scream trilogy blu-ray box set was going to have any new extras, and also when the Still Screaming feature-length documentary was coming out, it's a two-birds-one-stone situation as it was announced today that Still Screaming will be contained with the Scream BD set on September 6th!
Obviously, this puts DVD users out in the cold and forces owners of the existing standalone blu-rays to double dip, but I feel it's a more than worthy purchase, and you might agree if you go back and look at all the coverage we've done on the doco. It's clearly going to break the mold of what we all know about the trilogy.
You can pre-order the set now. In light of this addition, I feel the $27.99 price could possibly go up – however pre-ordering buyers will definitely get the existing (or lower) price. So chop chop.
And a month later on October 4th, Scream 4 will be no supplement slouch itself as it was revealed today that Anchor Bay's DVD & BD will include:
-"The Making of Scream 4″ featurette
-Alternate Opening
-Extended Ending
-Deleted and Extended Scenes
-Gag Reel
We know all about the alternate opening but the extended ending is news to me! But what the heck happened to the recently recorded cast & crew audio commentary?
Source: Shock Till You Drop