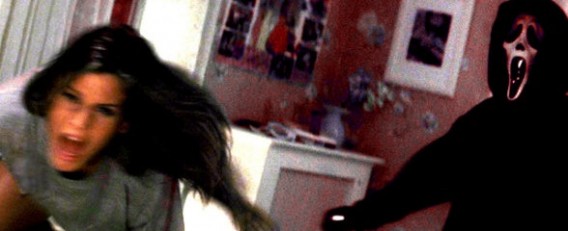 Sometimes TV cuts of films yield vast differences to their theatrical counterparts, but over this past weekend, the hotel Pay-Per-View version of Scream 4 became apparent to be altered in numerous, if subtle ways. There is some debate that Olivia's deathscene is edited a little differently and has perhaps more impact but outside of that, what makes this an alternate cut and contender for Unseen Scream 4 status is all in the audio and dialogue. The changes mostly break down into three categories:
- Added Dialogue: brand new dialogue added to the film
- Looping: existing dialogue replaced with slightly different lines
- Dubbing: dialogue replaced with alternate takes of the same line
Prominent examples, to name a few, are the revelation only previously hinted at that Jenny was the "other woman" that Trevor cheated on Jill with, Woodsboro High's principle's announcement about a curfew (just like Himbry in the original) and confirmation that Robbie is dead (told ya, dead is dead!). Arguably the audio additions enhance and clarify the film while the audio replacements have been called a mixed bag of improvements and ruinations for some characters, so if you've seen the PPV cut do let us know your thoughts (no links/info for downloading copies please, big brother is watching).
Special Thanks goes out to Brett Vickerman for creating this exhaustive list for us.
OPENING PART A
Sherrie added dialogue
"Trudy! Oh, my God" after seeing Trudy get stabbed
OPENING PART B
Chloe added dialogue
"It's your own fault" after stabbing Rachel
SIDNEY INTRO
Something to Die For plays longer, fades out while Sid and Rebecca talk
GIRLS INTRO
Olivia dubbing
"Ok, so Trevor called me last night"
"He's worried your cousin coming to Woodsboro is distracting you from knowing how worry he really is"
Olivia added dialogue
"Problem with Trevor is he never quits."
Olivia dubbing
"By the way, have you seen the grim reaper? Angel of Death?
Olivia added dialogue
"Sidney!"
POSSIBLE Jill dubbing
"If I knew her, which I don't really"
Olivia dubbing
"Wherever she went, people died. Other people, it was never her. I mean, Stab is the wrong franchise for her, it should be Final Destination."
Jill dubbing
"Ok, why is Jenny Randall calling me?"
Olivia dubbing
"Ooh, the other woman."
"I can't stand Jenny Randall." Is redone and differently placed
Jill dubbing
"Hello?" is differently placed
Deleted dialogue
Kirby's "Why?" is gone
Olivia dubbing
"Wow, that was original. I got a call like that this morning from Marnie the Carnie."
HICKS INTRO
Dewey dubbing
"One generation's tragedy is the next one's joke"
Dewey added dialogue
"Why's that?" in response to Judy saying "I wish I'd been old enough to be on the force when you were solving those crimes."
"…or trying" after "She's writing – fiction."
GALE WATCHING SID
Gale dubbing
"…write."
ROBBIE INTRO
Film geek added dialogue
"Look." signaling Robbie to the girls
Robbie dubbing
"Oh, this is hall pass with Robbie Mercer, here with the luscious Olivia Don't-look-at-my-tits-I-have-a-mind Morris. Here is my Woodsboro Massacre anniversary question. What is your favorite scary movie?"
Olivia dubbing
"Is that all you got, some stupid douche question?"
Jill dubbing
"Yeah, where'd you hear that anyways?"
Kirby dubbing
"Bambi."
TREVOR INTRO
Jill dubbing
"I think Charlie likes you."
Kirby dubbing
"And I like him – to teast, to torment, to make him squirm."
Jill dubbing
"You could do a lot worst, trust me."
BOOK SIGNING
Gale added dialogue
"What are you doing here?" instead of "What's going on Dewey?"
Perkins added dialogue
"Hoss, I'm hearing something!" (right before Hoss "Sheriff, it's ringing out here!"
QUESTIONING SCENE
Dewey dubbing
"So look, uh, you'll have 24-hour police protection" (instead of "police surveillance")
TREVOR BEDROOM SCENE
Trevor looping
"Be cool, it's ok, it's just me. Relax, relax, it's just me." (instead of "Be cool, it's ok. Relax, relax, it's just me." and placed differently)
KIRBY PHONE CALL SCENE
Olivia dubbing
"You know there are two zombies sitting outside your house in a car?" (instead of "You know there are two zombies sitting outside the house in a car?")
"Angel of Death leave?"
"Forget it, next door's close enough."
"She's at her boyfriend's. It's creepy around here tonight."
Kirby dubbing
"Then who the fuck are you?"
POST OLIVIA STABBING
Perkins dubbing
"What's going on in here?"
"Ma'am?"
"We'll check out back."
"There's nobody back there."
"Hoss, call it in."
"Hey, are you ok?"
Bystanders dubbing
"This is all your fault, Sidney."
"You're just like your mother!"
"We thought this was over."
"Come on, leave her alone."
Hoss and Perkins dubbing
Perkins: The kids are over there.
Hoss: Over by that tree.
"Hoss, clear these people out."
"Right."
GALE/ROBBIE/CHARLIE
Robbie dubbing
"This is Hall Pass with Robbie Mercer webcasting live in our darkest hour. What began as a day of remembrance has ended with serial murder. Olivia Morris, who officially will never go out with me, is dead. So is Jenny Randall and Marnie Cooper. Our local legacy – the Stab movies – is coming to life."
SIDNEY'S HOSPITAL CHECK-UP
Doctor dubbing
"There's no broken bones, I think you'll be fine. Take it easy. You're lucky, Sidney." (instead of "There's no broken bones, I think you'll be fine. Just take a couple weeks off.")
REBECCA ELEVATOR SCENE
Rebecca dubbing
"Have you even read my book, Rebecca?"
"The problem with Sidney is she never gets laid. Or even a little shitfaced once in awhile. She'll call me tonight and apologize. Just watch."
REBECCA PARKING GARAGE SCENE
Ghostface dubbing/added dialogue
"If you wanna be in the hospital, I'd be happy to put you there – in the fucking morgue!"
Rebecca dubbing
"Cut and run"
PRESS CONFERENCE SCENE
Perkins looping
"Oh, shit!" is placed differently
Dewey dubbing
"What am I supposed to say?"
Gale dubbing
"Listen, I may not be wearing a uniform, but I happen to have a lead and you don't"
SCHOOL EXTERIOR
Principal added dialogue
"And remember students, tonight's town curfew is nine o'clock. You should be home with your doors locked at nine o'clock."
STABATHON
Robbie dubbing
"That'll do."
SIDNEY PHONE CALL/KATE DEATH SCENE
Ghostface looping
"Right? Am I right?" (instead of just "Am I right?")
Kate dubbing
"Oh, my god."
"Come on, Jill."
"She's not picking up."
Hicks dubbing
"Hey! Hold!" as Sidney drives away
KIRBY'S HOUSE
Kirby dubbing
"You missed chaos, utter chaos."
HOUSE CLIMAX
Jill dubbing
"Charlie!" (first line in kitchen)
Charlie added dialogue
"That should keep him quiet" (after Jill executes Trevor)
Hicks added dialogue
"He's gone!" after checking Robbie's pulse
HOSPITAL FINALE
Dewey dubbing/added dialogue
"It's ok. You're gonna be ok. Jill, you made it, that's all that matters." (instead of "Jill, you made it. That's all that matters.")
Added loudspeaker dialogue in two places – right before Jill opens her eyes in her bed and as the nurse walks by
"Your attention please, there will be a mandatory meeting for all non-emergency personnel in the basement conference room in five minutes."
Dewey dubbing
"Dammit!" instead of "Shit!" when realizing Jill's the killer
Jill looping
"You think I won't do it?" replaces "What, you think I won't do it?" and is placed a bit differently
Jill added dialogue
"You heard her!" in reference to Gale telling Hicks to do it
Gale added dialogue
"Give it to her!" in hushed tone while Hicks is standing
Added sound effect
Hicks gunshot grunt is much more audible
Jill added dialogue
"She's not going to help you." (before "Come on.")
"Neither is he."
Gale added dialogue
"Dewey?" (looking at Dewey on the floor)
"Where the hell is everybody?!" (after Sidney's final line)
As it's unlikely it was created just for PPV, it remains to be seen if this version was culled from an earlier cut of the film or if it's an improved, "modified-from-theatrical" version that will be what we see on DVD & Blu-Ray. We'll surely find out on October 4th, if not sooner!