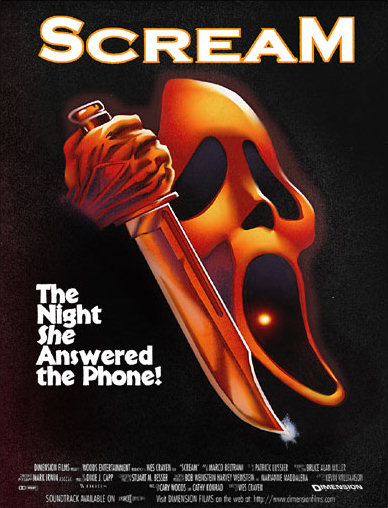 It's exactly one week until the Scream Blu-Ray Boxset's September 6th release. It contains Scream, Scream 2, Scream 3, Scream: The Inside Story and Still Screaming: The Ultimate Scary Movie. That's a lot of screaming. All three films from the iconic trilogy are together again after the DVD collection from 2000, but also in optimum presentation of the best available format of modern times, plus hours of new extras.
It's an event. However, Lionsgate don't feel that way. They are doing zero promotion for the boxset. Let that sink in for a moment: zero promotion. This is the kind of treatment another company, Paramount would reserve for their Friday the 13th DVDs. Maybe they simply feel Scream has become such a niche that those that love the films will buy it regardless – the fridge/eskimo syndrome. I don't think this set, as superior as it is, is such an easy-sell – Lionsgate face many who already bought the single releases earlier in the year, and others who are grizzled over the lack of Scream 4 included (as much as we've rationalized its unneeded inclusion, the fact is that people expect all movies in a boxset).
Luckily, other forces are at work to give the release the attention it deserves: the Still Screaming team will be appearing for a signing at Dark Delicacies, Burbank, CA on September 6 @7pm- and bringing a few friends along. Director Ryan Turek, Producer Anthony Masi, Editor Monica Daniel and Composer John Corlis will be joined by Scream names Producer Marianne Maddalena, Editor Patrick Lussier, Scream 3 script doctor Laeta Kalogridis and Sheriff Burke himself Joseph Whipp. Possibly others.
Scream-Trilogy will attempt to wrangle some goodies for coverage. Stay Screaming!