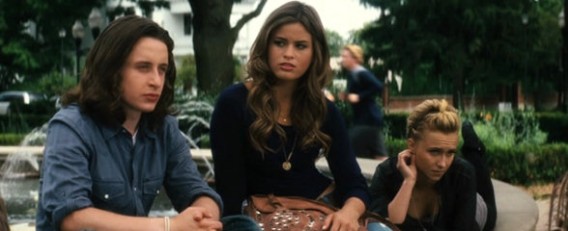 All Scream 4 deleted, alternate and extended scene from the DVD/Blu-Ray* are now posted for your viewing pleasure, including an updated longer alternate opening scene and the extended ending. Enjoy this handy chronological index.
*Curiously, Dimension are not giving us the missing party fun of Gale Weathers and Alternate Ghostfaces. Still, a damn fine collection of missing material.
Alternate Opening
Dewey and Gale at Home
Jill and Trevor at School (Extended)
Crime Scene
Discussing the Murders
Dewey's Test
Kate Outside Olivia's House
Woodsboro Remake
Gale on the Trail
Trevor Visits Jill in the Hospital
Sidney and Gale in the Hospital
Rebecca in the Parking Lot (Alternate)
Perkins Stands Guard
Kirby with the Boys
Charlie and Robbie Set Up Stabathon
Trevor and Jill Look for Jill's Phone
Robbie Outside Kirby's House
Dewey Visits Gale at the Hospital (Alternate)
Extended Ending
Ghost Face Test Shot (Newly Added)
Youtube user stvwxm is responsible for most of these uploads, so a big thanks to him and we will attempt to keep these videos and links updated as better sources become available or, as is likely, these are removed.