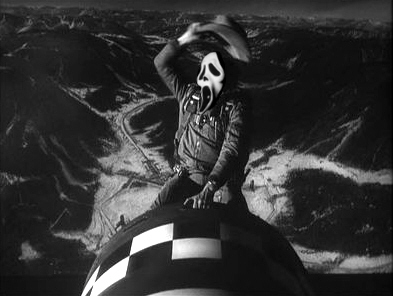 Written by Liver Alone for Scream-Trilogy
So I'm casually browsing the web when I hear that Paranormal Activity 3 garnered a smashing $50 million opening weekend at the North American box office, and as a Scream fan, all the bitterness and swallowed pride from six months prior came rummaging back up.  You see, in the run up to Scream 4's release I had gotten my hopes up that the movie would bring back the series' box office glory days and be the first unambiguous horror movie to smash the $50 million mark on its opening weekend.
It didn't happen.  It really didn't happen.
In fact, Scream 4 became arguably the biggest surprise disappointment in recent box office memory.  What's worse, it seemed like the movie would always fall just short of any kind of silver lining, as if there were nothing we could point to in which we could say, "well, at least it's doing that well."  Maybe it'll at least get a $20 million weekend, that still sound somewhat impressive, right?  No, the estimate turned out to be $19 million.  Well, at least it's practically $20 million, right?  The actual number turned out to be $18 million.  Well, maybe it'll have legs like the first Scream!  Instead, the film wound up closing at $38 million, which is about how much most people predicted for its first weekend.
The three films in the Scream trilogy are still the biggest slasher films ever at the box office.  Scream 4?  #20.
The aftermath is almost as bad.  When films bomb, support gets pulled, and Scream 4 is no different.  Despite a generally favorable critical reception, Scream 4 was passed over in awards it should have been up for (the recent Scream Awards snub being the biggest sting, I mean come on) and generally wound up being quietly dropped from the media consciousness.
Paranormal Activity 3's success may have brought back these bitter feelings for a bit, but it helped when I recalled what helped me get over them in the first place.  First off, it's good to have a bit of perspective: as disappointing as its takings are, Scream 4 was still seen and appreciated by millions of people worldwide.  Even more than that, though, there are possible good things to come out of even this situation:
Scream 4 has the makings of a cult hit.
It's weird to think of the most mainstream horror series having an entry that could be considered a 'cult' favorite, and perhaps it's not the best descriptor.  But it has the qualities of a film whose reputation in the long run overshadows its tepid box office reception in its infancy: think Blade Runner, The Thing, or The Shawshank Redemption.
The majority of reviews for Scream 4 were positive, and what's more, the positive reviews were a lot more enthusiastic than the negative ones.  Add in that the negative reviews seemed like they weren't sure what to make of the movie (the most common complaint was that in the end, the movie hadn't really shaken things up cast-wise, even though that was kind of the whole point of the movie).
Generally, when a film gets mixed reviews, the most passionate response is the one that sticks.  Believe it or not, Star Wars Episode I was not nearly as poorly received as you might think: it's just that the portion of the audience that was disappointed was much more passionate in their opinion than those that liked it.  The result? Years later, Episode I is mostly remembered as a near-disaster.
This bodes well for the future of Scream 4, as its advocates are a lot more fervent than its detractors.
The Scream saga is fine as it is.
I never really needed a Scream 4. I was happy that we got one, and a part of me always assumed that there would be one someday in a Halloween: H2O fashion, but it wouldn't have bothered me if it didn't happen.  The story of Scream had wrapped up in the prior trilogy, and we got to see our characters enter "happily ever after."
Had Scream 4 been a smash, the Weinsteins would have immediately greenlit a Scream 5.  But if I didn't really need a Scream 4, I really don't need a Scream 5 or 6.  Scream 4 is a fine reunion movie, an epilogue to the series.  What place is there for a Scream 5?  Where do you go from here?  How do you justify the same events happening over and over again without it getting ridiculous?
It's telling that a lot of casual moviegoers' first reaction to the Scream 4 marketing was, "Scream FOUR?"  I think for many people Scream was the "smart" horror movie. It's the series that knew better than to overstay its welcome: no characters came back as a zombie, Sidney and friends didn't get launched into space, and–this one a fact celebrated and flaunted by Scream 4 itself–it didn't get rebooted.  Even Scream 4 was a bit much for many to swallow, let alone a fifth or sixth iteration.
Especially considering Wes Craven's ideas for the future include possibly killing off the main characters (because dumping on a prior movie's ending worked well in other series, right?), it seems, now more than ever, we should leave Scream be with its dignity intact.  If it takes Scream 4 bombing in order to achieve that, then so be it.
Scream's coronation
My favorite thing about Scream 4's release, beyond even the film itself, is that it brought about a collective cultural retrospective of the original trilogy, especially the first film.  Not only did we get two awesome documentaries about the series, the plethora of marketing for Scream 4–the TV interviews, the magazines, the blogs–doubled as a look back at the movie series that redefined horror and shook up the film medium 15 years prior.
The veneration of Scream is something that isn't marred by Scream 4's box office upset.  In fact, Scream 4's release helped bring it about even earlier.  I think Scream fans had always known the film would one day be considered a bona fide classic.  That day has come.
"Liver Alone" is the alias of Scott Kessinger, who is the author of the book Scream Deconstructed: An Unauthorized Analysis.