Scream 4's release in 2011 made that year the peak of Scream's resurgence. But what came next? Like the comedown of any high, 2012 was substantially quieter, but not without movement. Premature sequel & TV news, cast & crew Tweets and… an anniversary. Before you look forward you must look back. Or something like that.
Kevin Williamson Spoke Out
Well, in that typical "less is more" way of his. If the famous screenwriter/producer's declaration in March that he wasn't doing Scream 5 he had no idea what was going on with the project wasn't enough, six months later he brought a simple troubling truth to light – he did have a workable concept for Scream 5 – even after the Scream 4 debacle – but that Dimension wanted it. Why don't they want to work with him? The answer came in a separate revelation that Weinstein Co actually sued Kevin over breaking contract on Scream 4, and only settled in April of this year. It's safe to say neither party especially want to work with each other again. We already know they were taking pitches from new writers as far back as 2011. So a reunion isn't impossible, but highly unlikely.
Scream MTV Series
June brought news that the creators of Teen Wolf's MTV series were seeking a pilot writer for a show based on Scream. Set in Woodsboro and not featuring the original cast, many fans cried foul. This is, perhaps why, the project went nowhere. The powers that be occasionally listen – there was clearly more anger directed at this project than praise, and perhaps the heat (or burn) from Scream 4 is just a little too fresh. As we understand, the executives working on it have moved toward reality TV fare. Here's hoping the TV series does go further. Sure it could suck. Or it could rule. We may never know.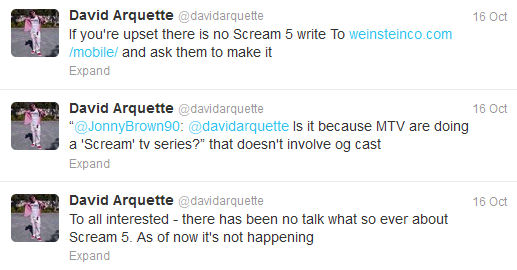 Scream 5 Non-News
This year the complete absence of Scream 5 news was not fun for Scream fans. We were all chomping at he bit waiting for word, any word. Anytime someone connected to Scream like Wes Craven even mentioned Scream 5, it got blown up into big news on movie websites, leading less savvy fans to get their hopes up. Pretty dick move if you ask me. One Scream mention that made me smile was when David Arquette jokingly called it 5cream on Twitter. That unofficial title is as bad as Final Destination 5's initial official title: 5nal Destination. Thank heavens these things don't always stick (*cough* Scre4m).
Getting Older
At the end of the year, Scream turned 16 – officially a teenager as of December 20. It's a little disconcerting for those of us who were around for each theatrical run, but a testament to Scream as a franchise is that the movies – especially the original – still feel modern and haven't dated badly (except perhaps some of the musical trends on display – Kottonmouth Kings forever! Fistbump?). Our website here also felt the pangs of old age when we faced bandwidth-induced cancellation. Luckily we received eleventh hour saves right before Christmas, going to showhow generous Scream fans are. Here's to more years of Scream, and more years of Scream news right here on Scream-Trilogy!