Archive for David Arquette
You are browsing the archives of David Arquette.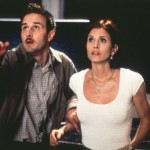 The man behind charming goofball Dwight "Dewey" Riley recently celebrated his 11th Anniversary married to Courtney Cox Arquette, his on-screen foil Gale Weathers. And now he has another reason to celebrate – things are about to come full circle for the couple with Scream 4.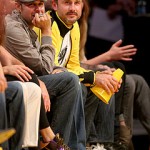 David Arquette has his Dewey mo ready go for Scream 4, as you can see here snapped during a Lakers game. The story behind the photo is quite endearing: