Archive for Hayden Panettiere
You are browsing the archives of Hayden Panettiere.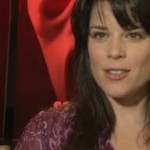 Did Entertainment Tonight come through with the goods? You betcha. Here is your first look behind-the-scenes at Scream 4 featuring short interviews with Neve Campbell, David Arquette, Courteney Cox Arquette and Emma Roberts, plus ample snippets of action to wet your pants – uh, we mean whet your appetite.

We earlier reported that Entertainment Tonight would have Scream 4 coverage soon, and that time is tomorrow. But, tonight was not without a preview of what's to come. Here are details and video.