Archive for Hayden Panettiere
You are browsing the archives of Hayden Panettiere.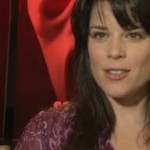 Did Entertainment Tonight come through with the goods? You betcha. Here is your first look behind-the-scenes at Scream 4 featuring short interviews with Neve Campbell, David Arquette, Courteney Cox Arquette and Emma Roberts, plus ample snippets of action to wet your pants – uh, we mean whet your appetite.

We earlier reported that Entertainment Tonight would have Scream 4 coverage soon, and that time is tomorrow. But, tonight was not without a preview of what's to come. Here are details and video.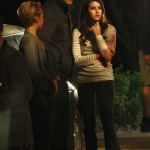 Some fantastic pics to come out of the past night or two – and here are some HQ's from filming and between filming. Try and guess which is which, it'll be funny if the chip eating is part of the scene. But onto business. There has been a fight – and damage has been taken.
Well it looks like the "Writer, Webmaster, Whatever" of Scream-Trilogy has given me my own little spot here, for which I'm grateful.  I'll continue input elsewhere too, but we'll see how this goes.  I can't promise daily shots of the stars, but I'll do what I can. So this was the scene last night on [...]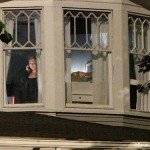 The Bananadoctor is back with the day's results of his one man mission to chronicle the exterior filming of Scream 4 with his camera. He notes that he spied "Emma, Hayden and Marielle. Inside scenes, one with some screaming (!), and one we could see through a window!" No spoilers – if anything the following [...]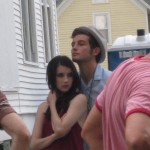 Here are photoshoot pics for the next bunch of fleshy knife-fodder. Emma Roberts, Nico Tortorella, Hayden Panettiere, Rory Culkin, and oh, Ghostface. Erik Knudsen was also captured, albeit not very clearly – you can check that out and others @ this link.