Archive for Locations
You are browsing the archives of Locations.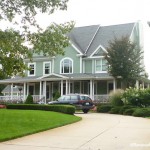 Bananadoc is back with this photo and description: "Heard a rumor that one important scene will be filmed in the back yard. There are HUGE lights set up at neighboring houses." Opening scene finisher? Climactic killer rumble? Hmm.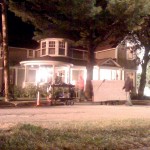 September is about to begin and Scream 4 will shoot for its third and final month. Eyewitness photos have been thin this week, as Bananadoc is on vacation (a rumor persists that it's a front – he really slipped on a banana peel while photographing a major death scene and is now recuperating in hospital).