Archive for Locations
You are browsing the archives of Locations.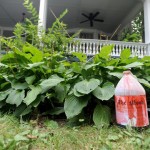 The perfect closure for recent weeks of filming at a certain carnage-endured house in Scream 4 is this article from AnnArbor.com about the owners; how their house came to be chosen, and some of the changes production made to the homestead. A few nice photos and quotes, too.
If I'm wrong and it's the house next door to this one, I'll feel pretty silly! So everyone now knows this is Northville, MI which I was actually trying to keep quiet to avoid an influx of people like me (ha), but it was a hard secret to keep.  The city sent an email out to residents […]