Archive for Magazines
You are browsing the archives of Magazines.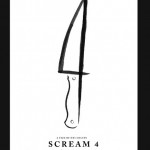 If you thought the recent posters were dialing the imagery down to bare basics, you ain't seen nothin' yet… until you see this.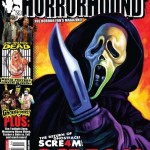 Horrorhound #28′s cover gives a jarringly wonderful glimpse into what a Scream poster might have looked like if it were made in the 70′s or 80′s before publicity became almost completely photo-based. The issue is now on sale and features a Scream retrospective and Scream 4 coverage.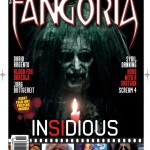 We get so much Scream stuff zapped into our heads through our computer monitors that it's easy to forget Scream 4 should be getting massive print exposure too. Here is Fangoria's April issue, #302 – and whilst the cover is hogged by a movie we've never heard of, ol' Ghosty appears in a new official [...]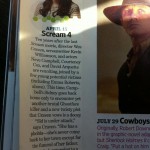 Thanks to a tidy relationship with Team Scream, Entertainment Weekly they've been the go-to rag for Scream 4 coverage on paper – if you'll recall, they released the first movie still and featured a cast photospread, to name two scoops. Their latest issue contains the next exclusive in that long line – a short blurb [...]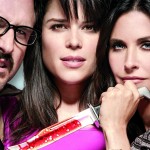 We obtained this HQ version of the EW Scream Reunion cover photo, which is now our desktop wallpaper – and read on for notations on the upcoming article, which features quotes from Scream 4 cast and crew.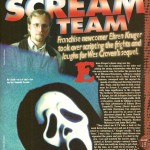 Since Ehren Kruger rewriting Kevin Williamson on Scream 4 is a sore point among fans, we thought we'd share this with you – a Fangoria Magazine interview from March, 2000 which illuminates the scribe's Scream 3 intentions.