Archive for Neve Campbell
You are browsing the archives of Neve Campbell.

Nothing bums us out having to denounce "news" all the other sites fall for without second glance, as it takes precious time away from bringing you cool and positive materials! So we'll make this one direct and to the point.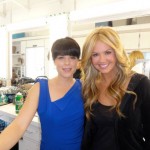 Neve Campbell gets more elegantly beautiful with age. Here she is with a new hairstyle and alongside cameoing Access Hollywood host Nancy O'Dell returning from Scream 2 and 3. Some preliminary footage (most likely second-unit) appears to have been shot today.