Archive for Photos
You are browsing the archives of Photos.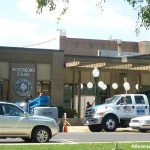 Over the past few days we've followed the construction of what is now clearly the Woodsboro Police Department front-end. Here is the finished version, looking like it was pulled right out of 1996.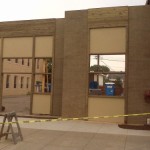 Here are a nice pair of photos from the 14th (along with details) of a set/false building front in-progress, downtown Plymouth, MI. According to the source, shooting is planned at the finished location on Monday next week.