Archive for Posters
You are browsing the archives of Posters.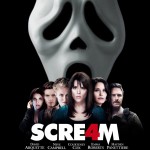 In the past we've theorized that while the US seems to be focusing on simple, direct concepts for its Scream 4 posters, other countries have their own promotional requirements, so it was only a matter of time before a cast poster turned up somewhere out there in the globe. And the winner is: Mexico!
The producers of Still Screaming: The Ultimate Scary Movie Retrospective have supplied Scream-Trilogy with an up-close look at the documentary's new promo poster artwork. Illustrated by Hack/Slash creator Tim Seeley, it features the iconic characters and one representative blonde victim about to run up a flight of stairs, no doubt.