Archive for Scream Inside Story
You are browsing the archives of Scream Inside Story.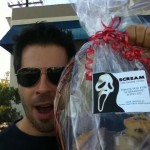 We were alerted via Twitter that Eli Roth, director of the pair of Hostel films, announced last week "Just filmed my interview for the "Scream" documentary. Party time!". Others are eroneously reporting this as the Still Screaming doco, but the photo Roth provided may clue you into a major factoid: this is a completely separate production.