Archive for Stab
You are browsing the archives of Stab.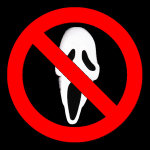 Removed by Request Here a complete look at the snazzy Stab DVD prop boxset from Scream 4, including looks at the covers for parts 1-7. Some cool easter eggs for the squinty-eyed, such as – Stab 3: Hollywood Horror is the title of the re-filmed third chapter following the "true-life" events of Scream 3.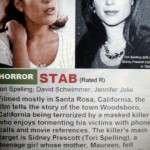 As many of you are aware, an account under the name Robert Prescott has popped up on Facebook. Whether or not this account is official or fan-made has yet to be determined, however, the recently posted news clippings have become quite a treat for die-hard Scream fans and has left us wanting more.