Archive for Wes Craven
You are browsing the archives of Wes Craven.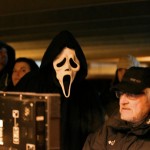 Wes Craven is a gracious director. You may remember from behind-the-scenes footage that he let Jamie Kennedy direct a scene in Scream 2. On the set of Scream 4 Additional Photography, it's now Ghostface calling the shots, as seen in this new photo from the producer/director, captioned "Everyone's a critic… even Ghostface."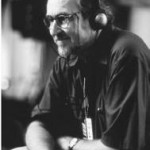 Entertainment Weekly again have a Scream 4 scoop to share – this time, Wes Craven comments about the nature of the film's Additional Photography and addresses rumors the ending is being changed.